Applications

Coating Fluid (Solvent-Containing Fluid)
Example of high-precision supply of solvent-based coating fluid to
coating machines in functional film (optical film) production
Fluid name: Coating Fluid (Solvent-Containing Fluid) /
Industry type: Electrical machinery
Current Problem/Request
When supplying coating fluid to a die coater in functional film (optical film) production processes, conventional equipment often faces the following problems.
1. The complicated structure means manufacturers must perform adjustments and repairs, which can be expensive.
2. The pneumatic design of the attached pulsation-reduction device means adjustment is time-consuming and accuracy is unstable.
Solution
Using an NHL Mohno Pump for coating, which includes a Flow Stabilizer to suppress minute pressure fluctuations, ensures a high-precision supply.
Benefits
Using a Flow Stabilizer with a Mohno Pump capable of stable dispensing even with low-viscosity solvent-containing fluids ensures a highly precise, continuous metered supply.
The Flow Stabilizer is integrated inside the pipe, so no air is required and the internal volume is small. This enables stable discharge pressure immediately after pump operation starts.
The simple structure of Mohno Pumps allows for easy assembly and disassembly, making in-house maintenance simple.
Maintenance costs can be reduced, and adjustment downtime can be eliminated.
Flowchart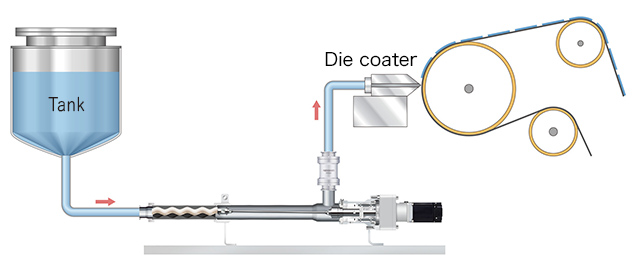 Related products
Product information
Mohno Pumps for Coating
This pump is suitable for applications requiring a high-precision supply to coating machines.

Food

Chemical

Cosmetic

Electrical machinery