Products

Microliter Series
Pumps for continuous metered injection or minute amounts for
research and development applications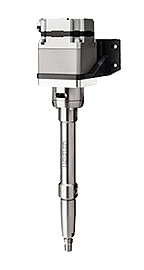 Features
Capable of performing non-pulsating, continuous and metered injection even in minute amounts.
Capable of metered dispensing without changing the liquidity of the substance, even for liquids containing solid components.
Simple structure with a small number of parts for easy disassembly and cleaning.
Because the flow rate per unit time is directly proportional to the rotational speed, the flow rate can be set or changed just by controlling the motor.
Performance
Discharge volume : 2.42〜517 µmL/sec (0.145〜31 mL/min)
Discharge pressure : MAX 0.9 MPa
Conveyance examples
Chemical

UV-curing resin, acrylic resin, pigments, additives, coating fluid

Electrical machinery

Electrode materials, electrolyte