Products

Sludge Cake Pressure Pump System
Efficient pipe conveyance of low-water sludge cakes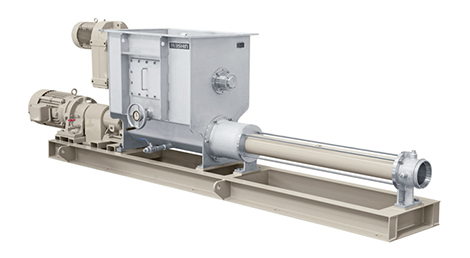 Features
Supports sludge cakes with low water content by means of a powerful feeder.
Easy maintenance thanks to a built-in plate valve and Victaulic® joints.
Pump driving units are also compatible with driving units with mechanical transmissions and AC variable-speed motors with eddy current coupling, etc.
(Victaulic® is a registered trademark of the Victaulic Company)
Performance
Discharge volume : 0.07〜34 m³/h
Discharge pressure : MAX 2.4 MPa
Conveyance examples
Environment

Sludge cakes, industrial waste water sludge
Other types
A compact model suited for industrial waste water and small-scale sewage.
Discharge volume : 11〜2610 L/h
Discharge pressure : MAX 1.6 MPa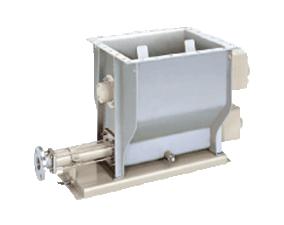 System that connects two pumps for long-distance, high-pressure conveyance.
Discharge volume : 0.17〜29 m³/h
Discharge pressure : MAX 4.8 MPa